The Block
24 Aug 2020 11:37
-
24 Aug 2020 11:41
#354044
by Carlos.Martinez3
en.wikipedia.org/wiki/Carl_Akeley
In our path can become over time, full. During the Hero's Journey there can be moments when you receive things from elders or loved ones or even just "gifts" from somewhere or someone. There can even be that flash of hope or strength we need at times.
The human potential is amazing some days.
A taxidermist is sitting in my mental council. Not just any body.This one is similar to a Renascence man.
He is described "pioneering American taxidermist, sculptor, biologist, conservationist, inventor, and nature photographer, noted for his contributions to American museums, most notably to the Field Museum of Natural History and the American Museum of Natural History. He is considered the father of modern taxidermy.[1] He was the founder of the AMNH Exhibitions Lab, the interdisciplinary department that fuses scientific research with immersive design."
Thats the cut and dry.... You should read articles about him. What others say about this "wimpy taxidermist." Take some time to find your own Elders in your path. Some can be fictional but some can be real. You know there is some one who climbed Everest without a shirt?
This is a crude example but we can choose our "role models" and our Elders at times.
I was born in a hospital on Fort Sam Houston- I dont know about you but there was no circle of people waiting my arrival , just the medics doctors and staff. There was no ceremony or great procession and there was only a intimate number of people there. Some births are huge. Mine, ehhh not so much.
So to find my own elders- sometimes I gotta find em or find new ones foreign to me. Thats the way things can go some days. Some days they show up and some days they are picked....
Share with me your chosen elders??? Who fires you up or what fires you up on your Jedi path?
Carl does me...
Happy seeking Jedi
Pastor Carlos
PS i really wanna know, maybe I can find another or a few more by recommendation...
the camera he built is still a valuable thing and still works- all 400.. I think
...he was just a person... yet ....
---
Contact The Clergy
Pastor of Temple of the Jedi Order


This email address is being protected from spambots. You need JavaScript enabled to view it.


The Block
Build, not tear down.
Nosce te ipsum / Cerca trova
The following user(s) said Thank You:
Kobos
Please Log in to join the conversation.
Eqin Ilis

Guest
25 Aug 2020 02:22
-
25 Aug 2020 02:54
#354098
by

Eqin Ilis
I'm reminded of a saying, "when the student is ready, the master will appear." So far almost all of my elders, my role models, are either people from my life who are from humble occupations (and not someone you could find online easily), fictional, or historical. For what it's worth, some of the fictional ones are Robin Hood, Sir Gawain, Qui-Gon Jinn, Poe Dameron, Uncle Iroh, Remus Lupin, Hagrid, and Dean Winchester. The historical tend to be a bit on the political side, so I won't share those here. lol



Sounds like we have a few of the same reads !

Thank you for sharing - I'm right there with you for the Han Solos or the solos of the movies - the loner roles.
I always love a good prodigal return


Isn't it funny but in real life, I find in the seek of things - that's where I find it. Most times for me it's being able to have a focus or a direction that helps.





Not my video not my platform and may expire

Things like this help me - personally -
Please Log in to join the conversation.
31 Aug 2020 11:09
#354228
by Carlos.Martinez3
This past week we morn the loss of a "Movie star."

Cadwick Bosman

We re watched the original Marvel Black Panther on Disney plus this weekend with the family.
At the very end the movie states we have more connection us than separating us...

Then I wondered...

What separates us really? Most, it is just our interpretation of what? Most time ive notice arguments are caused by two sides either trying to prove they are right or trying to prove THEY are right yet, its the same stuff. What if we didn't care about credit but of character? Would the Modern day Jedi grow or die? Would you? something to think about this week.
May the Force continue to be with yall!
---
Contact The Clergy
Pastor of Temple of the Jedi Order


This email address is being protected from spambots. You need JavaScript enabled to view it.


The Block
Build, not tear down.
Nosce te ipsum / Cerca trova
Please Log in to join the conversation.
07 Sep 2020 11:55
#354394
by Carlos.Martinez3
My name is Carlos Martinez. I grew up in San Antonio Texas. Last night, MY PASTOR died. No one will ever take his place. He started a small church in the outskirts of town where no one cared, HE DID. I remember him bringing me home a few times for a dozen of reasons. I was caught after church function hours in the playground NOT being very creative but more destructive. I remember the first BIG building they had was near a part of town where there were local missions from the old days like abandoned and there was a Mc Donalds near the church in walking distance. I used to treck there in between bathroom breaks. YET he loved me. I spray painted one of the church buildings - I remember growing up. I tore apart one of the swing sets that was already old in the back of the church and I got into trouble for that one too. As I got older- in my teens, MY Grandpa and Grama wanted me off the streets and into something else... IN WALKS BROTHER LEE WITH A GUITAR. He couldn't play. He couldn't carry a tune in a bucket YET, I have many guitars at any time - a few ukes- and if its got strings I can play it...
i learned it from LEE. During those times I would show up to church early to practice. He got me HOOKED! After that you would find me under the church with my grandpa or some church elder fetching pipes or hauling dirt or even just fixing something. Go figure a entire 180. Not on the inside. There was still conflict and wonder and about as much potential in a stick of dynamite ready. Now, I reflect and wonder why I was so rambunctious- yet its now in these times Im finding the "gems" I ignored all those years. Lee stands in my Mental Council for many things.
Mostly that TALL LANKY MAN pointed his TALL LANKY FINGER at me and would tell me "your worth the time and effort, just sit down and chill out my friend, MY FRIEND... My friend has passed and has left me the greatest gift I think any one could- WORTH

How can I not show just a fraction of the light these GIANTS had shown me? They are here every day. Every time I kiss my son, I think of the only MAN I ever saw KISS his son in front of me and mean it- he was hope. He gave hope where there was none. He fed us. I think of all the times we were at church at some function or some reason, those times we got to eat at a table with him and others like him. WHAT A BLESSING. No one ever sat at my table growing up... Lee did, as often as he could.

He bought me lunch at my school one time and had lunch with me. HE SAT AT MY TABLE.

Im not Lee, but what a example. Im no Christian but what a devotion to his faith and practices.

Ill never be him, but I dont have to, all I can do is use what he left and remember a few things.

"What you can use to tear, you can use to build better.
When others run its the stay that sticks around.
Who better to know grace than those who have been given it?"

...and churches ARNT for graffiti but to serve...


I am happy today and I am in tears. I burned cedar and sang songs off key untill my voice couldn't... can we be free today? I am free because some others cared... think about that this week you Modern day Jedi

May the Force continue to be with yall in the every day



Emotion, yet Peace.
Ignorance, yet Knowledge.
Passion, yet Serenity.
Chaos, yet Harmony.
Death, yet the Force.
---
Contact The Clergy
Pastor of Temple of the Jedi Order


This email address is being protected from spambots. You need JavaScript enabled to view it.


The Block
Build, not tear down.
Nosce te ipsum / Cerca trova
Please Log in to join the conversation.
Knight
07 Sep 2020 16:48
#354396
by Jhannuzs Ian
---
.
♪ ♫ ♪
.
Jedi Master: Rosalyn J
.
Focus, discipline, integriteit, kennis en licht
.
.
My code:
The Force is all, I choose my Focus
Life includes suffering, I am Resilient
The Force include my imagination, I extract Wisdom and Harmony
Life includes adversity, I obtain Knowledge
I respect your Life, lets revitalize our Force while breathing
.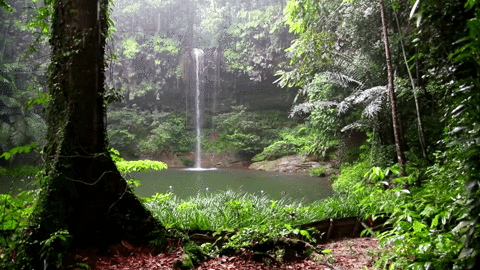 .
Please Log in to join the conversation.
14 Sep 2020 11:11
#354563
by Carlos.Martinez3
Taken from here
www.templeofthejediorder.org/forum/Clerg...-two?start=10#354534
"In fish"
"One time Anansi went a long way from home. Far from home. He got lost. He fell into trouble.
Back home was son, See Trouble, "father is in danger..." he cried. He knew it quickly and he told the other sons.
Road Builder said "Follow me" Off he went making a road. They went fast, those six brothers to help Anansi. Where is father now? Fish has swallowed him Anansi is inside the fish.River Drinker took a big drink untill there was no more river. Then Game Skinner helped father Anansi and split open fish.
More trouble came right then.
It was Falcon, Falcon took Anansi up in the sky. Quick now Stone Thrower! The rock hit Falcon and Anansi fell through the sky. Now Cushion went to help father, very soft, Anansi came down.
They were very happy, that spider family.
Retold by Gerald McDermott
Its a easy enough story to understand in a way that when I remember that Anansi had a TEAM of people. Theres always that group of fond friends or those goonies or those kids or that special brand of folk that just -mesh. Happens in the stories and it happens in real life. That "Band." I often see the BAND of people there in the stories and in real life, ill explain.
Harry had his friends
The Hobbit had his friends
The Goonies were a group of rejects
Luke had Obie and Yoda and lots of Rebels!!! REBELS!!!!
Solo had friends... (every where dont forget)
Its always a BENIFIT to have wise council and people NOT like you around ya.... Ima say that again for those who like to hear me talk when you read me, this ones for ya, There is a BENIFIT to having people NOT like you around you, often. One, it keeps ya in check in real life. Your not the ONLY one with the responsibility of finding solutions, there are those who can help in their own area of expertise. They are right there with ya.Lets face it, ONE does not simply walk into Mordor, One ship can make the shot buuuuuut its gunna take a few of them to get ya there for the shot. It some times HELPS to have a good team. "Ya cant catch your self or even shoot down whats got ya some times when your in the clutches... "
Now Anansi is a father and a African Story and it was the Fathers that taught the sons their work. These sons had names so well, that they were known by their trait. Think about that...
Some times ya gotta have a good group. Some times you gotta be the one who does just ONE thing. Some times its us that need the help. Some times ya gotta be the one that trains em... This is "A" way.
Edit additoin: If every council member was Pastor Carlos this place would suuuuuck! Think about that...
Every Council member in the stories and cinema was DIFFERENT from DIFFERENT places and cultures and different color and size and shape and yet could understand and ACKNOWLEDGE every culture and custom in the room. Thats kinna the Idea hu?
In my best Yoda Voice..."Good relations with the Wookies ya got, hmmmm?"
In the fish, where do you go?
When you cant, where can you?
Do you have real people?
Do you have a real faith?
Seems in time of need, THATS what gets us out, Not us... But our faith and or our people or cause.
May the Force continue to be with yall!
---
Contact The Clergy
Pastor of Temple of the Jedi Order


This email address is being protected from spambots. You need JavaScript enabled to view it.


The Block
Build, not tear down.
Nosce te ipsum / Cerca trova
Please Log in to join the conversation.
21 Sep 2020 12:12
#354811
by Carlos.Martinez3
Today, coffee in hand in discord we had a hour long chat.
What is your favorite Star Wars saying? Ya know that one you use all the time, your go to? Do you do the Yoda voice? Do you? There were a few good quotes in discord. The point this fine cold Monday is that most times we know what we are looking for. Those things or gems or even ideas, when we find them, we know. For the most part, there are things we know we seek. There are many time we use the terms, well I just don't know what Im looking for ... and I feel that's one of those things that needs reminders. We do. In the seek and search in our reflection of ourselfs we have a few recomended teachings. Nothing is ever "THOU SHALT..." here, thats not what we do or how we do it here. We share. Be WARY.

4. Jedi are wary of attachments, both material and personal. The obsession over possessions and people creates the fear of losing those possessions and relationships which can cause ourselves to be trapped in a state of depression and loss.

WHERE TO BE WARY, WELL ONLY YOU KNOW WHERE YA NEED TO BE CAUTIOUS OVER.
If your like me, thats the scary part.

but... how do I figure out where I need adjustment AAAAAND what do I do with it when i find it? How do I adjust? These are questions I ask myself all the time. That's what's so scary for me. I am at the wheel. That's what's scary for many. Dont be scared frinds, your path is in the most capable hands Pastor C can leave ya in, your own.
You are teacher student and vessel and contents, we are the pot and the water. We are the subject of our own path. Welcome Player one, READY? Welcome to your story.
May the Force we seek serve and share find you always!
---
Contact The Clergy
Pastor of Temple of the Jedi Order


This email address is being protected from spambots. You need JavaScript enabled to view it.


The Block
Build, not tear down.
Nosce te ipsum / Cerca trova
The following user(s) said Thank You:
Skryym
Please Log in to join the conversation.
28 Sep 2020 12:47
#354923
by Carlos.Martinez3
Good day all.
This week - this past week has been heavy.
This one is for the broken hearts that this pandemic has caused. Flat out, being in this pandemic can challenge your heart and your resolve. Understand that at times, your LOVE will be tested, especially during this time. As Pastor, this past week I've heard how Covid has done a number on our hearts and our relationships.
This one is for those who have had their hearts broken.
ITS NOT FAIR.
Its not. I am so sorry this time and season brings so much un rest and harm as well as new and growth. Some growth comes from study, some opposition and some comes from application.
There's a story my Grandpa Gaitan used to tell me" Never ask God to help you love your wife, that's give her liberty to fight and that gives you liberty to love."
Your everything WILL be tested during these times. To think otherwise is kina silly. LOVE is no exception. At any level, it will be tested. At any time heartbreak will be there waiting as a option or a fear or a friend. I myself have been to the mountain of break up a few times with my own love. Its real. Your not alone.
No ones ever really gone
And thinking we are alone is how they win.
I encorage those broken hearts to watch the Star Wars with "that" light on bright. Watch how the love changes and grows and moves and changes and hurts through the episodes. The Heros journey isnt a path to take lightly at times. It can be as fun or as serious as ya like. It can even help with every day things like LOVE and broken hearts. Star Wars is full of them, each episode. Each as different as the characters themselves.
We are not alone. Especially in our feeling and our hurts and our bad days.
Heart break is real and during this time, understand that. If its not you, more power to ya. I dont know any one who HASNT been effected by this season in time.
www.templeofthejediorder.org/contact-clergy
Cultivate Make Plant Start What ever you need but understand your never alone, not in a place like this. Some times its nice to know some one is real. You are real and so is your path.
Pastor Carlos
---
Contact The Clergy
Pastor of Temple of the Jedi Order


This email address is being protected from spambots. You need JavaScript enabled to view it.


The Block
Build, not tear down.
Nosce te ipsum / Cerca trova
Please Log in to join the conversation.
05 Oct 2020 12:27
#355067
by Carlos.Martinez3
Becoming THE GIVER.

In the Hero's Journey, in the narrative of story's and in the ideas of things as such, there is a element that is my favorite. In the Clive Lewis series, its the changing of the seasons in The Lion, the witch and the wardrobe that brings Father Christmas to the story. He shows up randomly with a sac full of gifts each one NEEDS to use and understand WHEN. For the most part, some are obvious. A sword a bow, but others not so much. Something that goes in your pocket. One of them receives nothing due to not being present. Yet, the child or receiver NOT present, was actually saved my the other gifts at least once by the use of them by his siblings.
In our path as Modern day Jedi, we would be fools to not realize that during our path some gifts come and some gifts are given. As Jedi, we make our sabers as per lore but in real life we are very much responsible for the content of our glow and how we wield it. Learning these things, we can be given many things from many places and people.

Real Gifts

In real life, in our own paths we are given "things" and sometimes I have to admit, they go in my pocket or as most call it "the back burner" and I forget them. In reality, its from the amount of self reflecting and meditation that I now am dusting off a few and realizing what was given to me. We as humans pass many things, from information to ideas to attitudes to gifts...
The range can be VAST as the sea and sky itself. I count almost monthly the realizations of things I find from character to information I now am able to call gifts. Many things have been bestowed to me physically, spiritually and mentally.

There is a moment when we become the gift givers as well.

Real Life

I cut cedar for a living in Texas. Its a itch I've missed for quite some time. Eventually ill do it again but for fun and for myself. I have a few cedars in my own property and for the most part its not a every day thing or a chore to trim a tree or make a post from it. There is a point where landscaping wise i can only go so far. There in the yard lay a small pile of wood that needs to be chopped and stowed for the upcoming cold weather. Winter is coming. (I love that line, anyway) For my wife's birthday yesterday she bought me a chainsaw. She laughs and says like Rafiki in a Disney movie, "it was time." That very act freed up sooooo much, and began the stacking process. I had all the other tools i needed but a chainsaw just was needed to get the tick done and unclog or help organize the "mess."
That's what some gifts can do.
Can we be the gift giver? You bet. Sometimes we are the receiver AND the giver. Something to think about this week friend as we venture in to the unknown also know as - life.

Pastor Carlos
May the Force continue to be with yall as we ALL seek and serve and share it.
---
Contact The Clergy
Pastor of Temple of the Jedi Order


This email address is being protected from spambots. You need JavaScript enabled to view it.


The Block
Build, not tear down.
Nosce te ipsum / Cerca trova
Please Log in to join the conversation.
12 Oct 2020 12:22
#355274
by Carlos.Martinez3
This week finds me in a strange spot. In real life, this month and actually this year, has brought, a bunch of closure to the many people that have passed on in my life. This year it seems I have seen many more than usual elders pass. May just be me. These corner stones of my own faith and paths have passed. What's even stranger is watching our next generation of elders come up. As I learn and live, my old leaders are dying, yet their children, my friends are stepping up to what is missing. Its heartwarming and neat to say the least. My children are at the grandparents lake house with me and we rarely get a moment to actually come out here and relax. We are here due to sewage and house repair but never the less a blessing is a blessing. We went to look for acorns. I cant keep these kids from touching everything, that's a good thing. A good balance of what's good to touch and whats not is a daily thing here recently. They leave piles for deer.

My wife has a sister that just turned 21 and she sends me a list of ingredients they are drinking as far as cocktails are concerned. What we are noticing is that they are enjoying what their grandparents used to drink from generations past. New labels, new fancy bottles but the drinks are still the same.

Im watching

Im watching this generation, that include you if you are reading, step up to the plate. We will become the elders. What will we pass? What will the questions be? Those with "belts" and time, seem to be becoming the instructors and elders, the time is very much at hand now Modern day Jedi. There is a very real need for new elders. There is a very real need for Modern day Jedi.

Any one else notice the mantels being passed in different things? Are you watching?
In the Hero's Journey, this would be the part where the students.... you know the line... becomes the ……. I wont say it because I have a feeling we already know.
Something to think about this week.

Force be with yall
Pastor Carlos
---
Contact The Clergy
Pastor of Temple of the Jedi Order


This email address is being protected from spambots. You need JavaScript enabled to view it.


The Block
Build, not tear down.
Nosce te ipsum / Cerca trova
Please Log in to join the conversation.
You are here:  

Family Resources

The Block